Welcome to Woodstock
The following is written by

Meagan Drillinger
Oct 9, 2020 with several additions to the text


Woodstock is so much more than a small town tucked at the foot of the Catskill Mountains. This upstate New York mountain town is, quite frankly, an international brand. A symbol for peace, love, art, and community, Woodstock has been a household name all over the world since the 1960s.


While the concert that put this town on the map wasn't actually held here (more on that later), the concert did bring international recognition to the town and has helped cement it as an oasis of peace, love, and understanding, though its roots as a tie-dye hippy haven extend much further than that.


Today, it retains its art-forward personality, with dozens of galleries, boutiques, educational centers, spiritual centers, hiking trails, nature preserves, food, and outdoor markets. Just 60 miles north of New York City, visitors find themselves truly immersed in another world, where the emphasis is on local, small business, and homegrown.


If you're ready to explore the best places to visit in this authentic small town, read our list of the top things to do in Woodstock, New York.
Catskill Park and High Peaks

Woodstock sits at the heart of 700,000 acres of wilderness. The Catskill Park, otherwise known as the Catskill Forest Preserve, is a New York State Park that spans four counties in the state.
It was established in 1885, and 286,000 acres of the land within the park is preserved and protected from development. This makes Woodstock a prime jumping-off point from which to explore the stunning wilderness that surrounds it.
Believe it or not there are more than 35 peaks and ridges in the Catskills with elevations of 3,500 feet or more, and 19 of them have trails that reach to their summits. This means that Woodstock is the gateway to hundreds of miles of trails that run the spectrum, from easy strolls to intense trekking.
Teeming with wildlife (like black bears, deer, birds, fish, and even bobcats and cougars), the trails that vein Catskill Park are always a surprise.
Most locals in Woodstock love to explore Overlook Mountain, the rounded-topped mountain that looms protectively in the distance. It's the southernmost peak of the Catskill range, capping at more than 3,000 feet. The views, as you can glean from the mountain's name, are stunning.


Ashokan Reservoir
New York City claims considerable bragging rights to its water, and for good reason. It's some of the cleanest drinking water in the country and, believe it or not, it comes from the Catskill region just outside Woodstock, New York.
New York City's water supply system can be traced back to the Ashokan Reservoir, a short drive from Woodstock. The reservoir, one of the largest in the country, has more than two miles of paved walkways around it, as well as pristine views of the surrounding mountains. While you can't swim in it, it is possible to spot wildlife (keep your eyes peeled for bald eagles). Biking and walking around the reservoir is a popular activity among locals and visitors alike.
Ashokan Rail Trail
One of the most popular attractions near the reservoir is the Ashokan Rail Trail, an 11.5-mile multi-use trail that was recently finished at the end of 2019. Not only is the trail used year-round for walking, biking, cross-country skiing, and snowshoeing, it is also peppered with signage that sheds light on the history and culture of the Catskill Mountains and the creation of the reservoir.


Byrdcliff Colony
Long before whispers of the 1969 music festival, Woodstock had been eyed as a utopian art colony. In fact, its artsy roots can be traced back as early as the early 1900s.
It started with The Byrdcliffe colony, which was founded in 1903 (and still exists today) and was a woodsy retreat where artists were invited to come and simply create. Ever since then Woodstock has been a beacon for the wildly creative. Fun fact: Bob Dylan even had a home at Byrdcliffe.
Today, there is no shortage of art throughout the community, whether it's the museums and galleries along Tinker Street (the main drag), the Woodstock Artists Association and Museum, and the classes and seminars visitors can still take at the Woodstock Byrdcliffe Guild.
Tinker Street and Mill Hill Rd and Rock City Rd
Speaking of Tinker Street, this is the main artery that runs right through the center of Woodstock's charming main town. On either side, visitors will find galleries; shopping; restaurants; and architectural remnants of Woodstock's centuries-old past, like the Woodstock Reformed Church, which is from the mid-19th century.


A stroll down Tinker Street will give visitors the quintessential Woodstock sightseeing experience all in one street. Grab a hot chocolate and a pastry at Bread Alone, which is the storefront version of the popular bread brand, and head over to The Golden Notebook bookstore for an author book reading. Later, you can visit the Tibetan Arts and Crafts for authentic Tibetan artwork and crafts, and stop for lunch at the vegetarian-friendly Garden Cafe Woodstock.


Depending on the day of the week, there may be musicians performing on the village green, or an outdoor market. In the evening, Tinker Street stays vibrant, with plenty of outdoor patio dining, beautiful lights, and lots of activity.


During the holidays, Tinker Street is known to have one of the most famous Christmas Eve celebrations around, when the entire town lines either side of the street and prepares for the arrival of Santa Claus, who has arrived in a new and silly fashion every year for decades. Toys are handed out to the kids, and restaurants open their doors, selling treats and hot chocolate to spectators.
If there's one thing locals of Woodstock treasure more than anything, it's being outdoors. Woodstock is a community that loves nature, community, and supporting local business. This is why you'll find so many outdoor markets in the warmer months.
Flee Market and Farm Festival
One of the town's most beloved is the Mower's Saturday/Sunday Flea Market. Located just a block from the central Village Green (on Maple Lane), this small green space comes alive on weekends with vendors from all across Ulster County. They're selling everything from vintage clothes, jewelry, and records to fresh farm produce, wood-fired pizza, and more. Plus, there's usually live entertainment, and it's a warm, welcoming place to visit, where neighbors get together to socialize.


Then there's the Woodstock Farm Festival, which runs from May through early October, bringing together local farmers, makers, and bakers to sell their goods. From farm fresh eggs, to locally cured meats, ice-cream, mushrooms, and prepared foods, this is a one-stop shop for all foodies who prefer to keep it local.


OPUS 40
Spread across a sprawling 60 acres, Opus 40 is a world-famous sculpture park and museum just outside Woodstock, New York. The park is open five days a week between April and November, whether it's a guided tour, educational field trip, nature walks, live music, or theater. The initiative also offers free community programs to help enrich the Catskill area, with concerts, classes, and fairs.
The space dates back to 1938 when founder Harvey Fite, an artist and one of the founders of the Bard College Fine Arts Department, purchased the land. The site sits on an abandoned bluestone quarry, and Fite began developing it in 1939.
The space retains its historic roots, as Fite used only quarryman's tools to fit together thousands of stones to create terraces, ramps, and steps. Today, these ramps still exist and are sculptures in their own right.
The name, Opus 40, comes from the amount of years Fite expected the development to take. Today, it is one of the crown jewels of the Catskills, and a particularly interesting stop when visiting Woodstock.


Address: 50 Fite Road, Saugerties, New York
Esopus Creek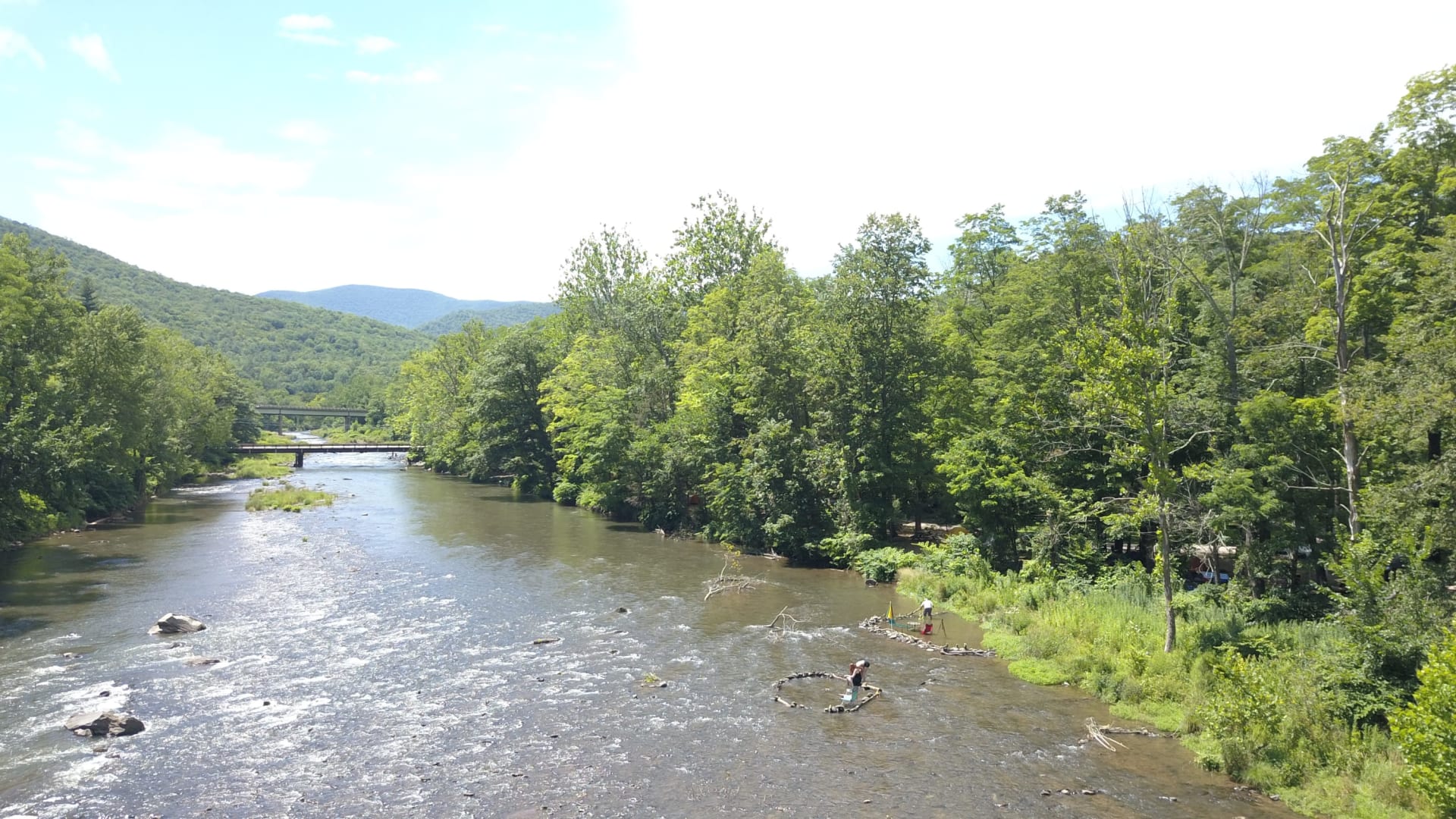 Just like the mountains and valleys, the waterways within the Woodstock and Catskill region are equally beautiful and beloved by residents. The largest, and most famous, of all the waterways in the Ashokan Watershed is Esopus Creek, which is not only vital to the economy and ecosystem of the area but provides endless recreation for locals and visitors.


The creek runs for 26 miles and is teeming with species like brown and rainbow trout, making it one of the most popular spots in the area for dry fly fishing.
Tubing on the Esopus
The creek is a local favorite for tubing, as well. During the summer months, it's not uncommon to see trails of tubers drifting downstream for an afternoon of leisurely adventure. The most popular tubing outfitter is Tinker Town Tubing, (temporarily closed) located in Phoenicia, which is about 20 minutes from Woodstock.


Address: 10 Bridge St, Phoenicia, New York
Music Scene
Of course, we can't mention Woodstock without mentioning the music scene. But, believe it or not, the eponymous concert, which is known all over the world, was not actually held in the town of Woodstock. It was intended that way, but a last-minute logistical error actually forced the concert to relocate to Bethel, New York, which is about two hours away.


Regardless, Woodstock has been a haven for artists and musicians for decades. From the Bearsville Theater, which hosts weekly indie acts, to Levon Helm Studios (founded by Levon Helm, drummer for The Band), there is always something shaking on the stage in Woodstock. Tip: A real treat are the Midnight Rambles at Levon Helm Studios (which actually start around 8pm), bringing rock, folk, and indie acts from all over to perform.
Maverick Concerts
There is also the Maverick Concerts series, which was started in 1916, and puts on fantastic summertime shows tucked back in the woods outside Woodstock.
Village Green
And, of course, there's always someone making music out on the Village Green most days of the week. The Sunday drum circle is particularly cool.
KTD
While you're hiking Overlook Mountain, be sure to make a stop at the Karma Triyana Dharmachakra (KTD), a Buddhist monastery perched on the mountain overlooking Woodstock.
The white, red, and gold structure looks like it could very well be nestled in the foothills of the Himalayas. Inside, the transformation is even more convincing, with fluttering prayer flags and a giant, golden Buddha at its center. The KTD monastery has a bookstore and offers guided tours on weekends. Meditation and teaching courses are open to the public through a calendar of various classes and retreats, as well.


The monks ask that visitors be respectful, since it is a working and living monastery, meaning dressing appropriately and maintaining a calm, quiet demeanor.


Guests are invited to walk around all the public areas, and cushions are provided should people want to practice their own meditation.


Address: 335 Meads Mountain Road, Woodstock, New York
Woodstock Playhouse
Opened in 1938, The Woodstock Playhouse is an institution, right in the heart of Woodstock. The neighborhood icon has been holding theatrical performances for more than 80 years, and often has been said to be a stepping stone to Broadway in New York City, as well as national tours.


The Woodstock Playhouse has played an important part in the history of the town, and has grown and evolved with Woodstock itself, from its early days through the World War II years (when it was forced to close because of gas rationing, which prevented visitors from coming up during the summer), up to the point when the original playhouse was burned to the ground. It was rebuilt in the late 1980s.
Today, it is best known for its summer musical theater lineup, but it also hosts an annual Woodstock Film Festival in the fall. The film festival hosts screenings, discussions, and events, and the town has been known for plenty of celeb sightings.


Address: 103 Mill Hill Road, Woodstock, New York
-------------------------------------------------------------------------------------------------
Other Music Venues

:
Places to stay:
Various Air BNB, etc.- various
Other websites of local interest: